Canto The Third
1912 Sir Gawain and the Green Knight
by Rev.. Ernest J. B. Kirtlan, B.A. (London), B.D. (St. Andrews)
DECORATED BY FREDERIC LAWRENCE
CANTO ONE
CANTO TWO
CANTO THREE
CANTO FOURTH
---

---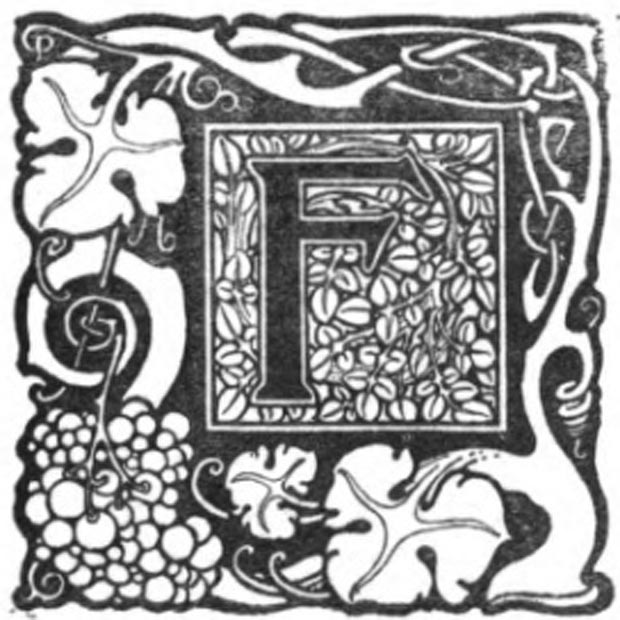 FULL early before day break the folk that would go a-hunting rose up and called their grooms, and stirred them up to saddle the horses, gear up the trappings, and pack the bags, and dress them in noble array for riding. Then they leaped up lightly and seized the bridles, and each went the way he liked best. And the beloved lord of that land was not the last to appear. He was arrayed for riding with many a rider. And
Page 127
---
having heard the Mass he ate a sop hastily, and full readily he went forth to the bent field with bugle, before any daylight shone on the world. The lord and his nobles were upon high-stepping steeds. Then the cunning huntsmen coupled the hounds, opened the kennel doors, and called them out, and blew three bold, clear notes on the bugles. At this there was a baying and a very great barking, and the huntsmen turned and whipped up the dogs. A hundred hunters of the best, as I have heard
the word.
To the trystings the trackers go,
The hounds the hunters stirred;
Because of the blasts they blow
Great noise in the forest is heard.
Page 128

---
II
AT the first cry of the quest the quarry trembled with fear. The deer were driven in the dale, doting for dread. Then they hastened to the high lands, but hotly they were stopped at the trystings, where was great shouting. Harts with their high heads were let pass, and the bold bucks with their broad antlers. For the noble lord had forbidden that in the close season any man should molest the male deer. The hinds, how ever, were held back with a Hi! and a cry, and the does with great din were harried to the deep valleys, and as they stumbled there was glancing of arrows, so that each that turned under the trees an arrow pierced him like the wind, and they boldly bit into the deer with full
Page 129
---
broad heads. So with braying and bleeding by the hillsides they died; and ever the hounds readily followed with a rush as the hunters on high horses hustled them forward with crashing cries, as though the very rocks had burst asunder. The deer that escaped the shooting of the shooters were all of them run down and pierced by the men on foot. They were harried at the high places and harassed at the water ways, for the huntsmen were such old hands at the low trysting-places and the greyhounds so strong that got at them that they seized them as quickly as a man might glance
aside.
The glad lord shouts 'abloy!'*
Full oft 'gan fall and ride,
And hunts that day with joy
Until the dark night tide.
* Abloy is a shout used in hunting, and is equivalent to 'On! on!'
Page 130
---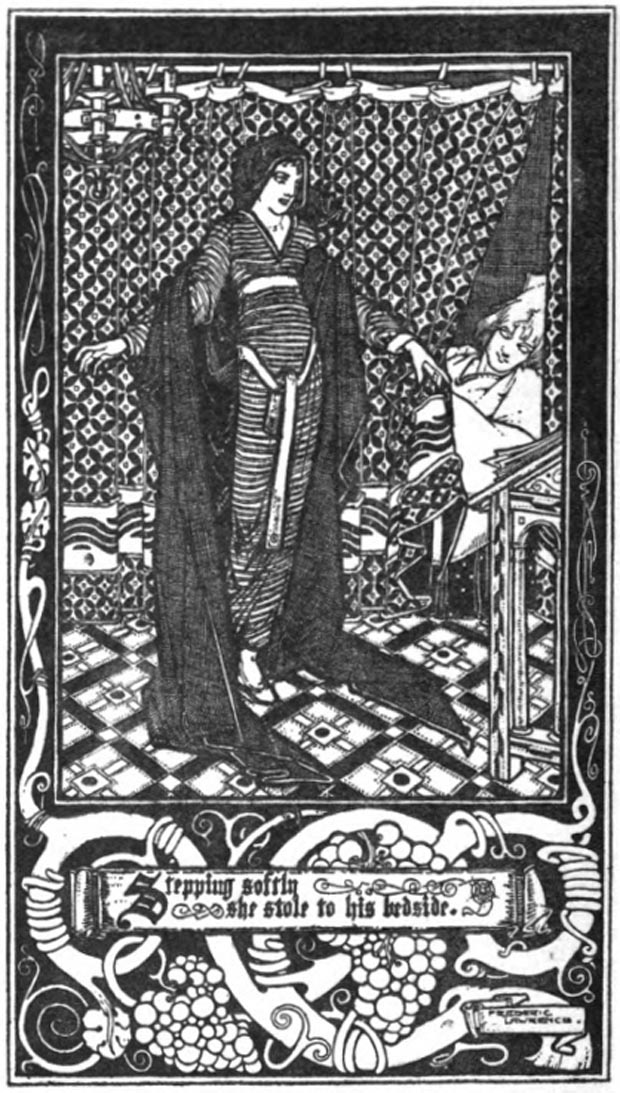 ---
III
THUS did the lord make sport by the borders of the lind wood whilst Gawain the good lay in bed at his ease until day light fell athwart the walls. As he dozed there under full white canopies cur tained about, he suddenly heard a slight noise at the door. He lifted up his head from under the clothes, and caught up a little the cover of the cur tain, and looked warily thitherwards if he might find out what it was. And he saw the lady, the loveliest to behold, and she drew the door after her darkly and softly, and came towards the bed. Sir Gawain was covered with shame, and quickly laid himself down and made as though he were sleeping. And stepping softly, she stole to his bedside, cast up the curtain and stepped within
Page 133
---
it, and sat down on the side of the bed, and lingered there, wondrous long, watching for him to waken. The man lay hiding there a full long time, troubled in his conscience as to the meaning of this, for a marvel it seemed. Yet he said to himself, 'More fitting it would be to speak to her and find out what she would.' Then he started up and turned towards her, and slowly opened his eyelids and looked wonder ingly upon her, and crossed himself for greater safety that he might speak
full true.
With chin and cheek full sweet,
Both white and red of hue,
Lovingly 'gan she greet,
Her small lips laughing too.

Page 134
---
IV
'GOOD morrow, Sir Gawain,' said the lady fair, 'full carelessly thou sleepest that one can thus creep into thy chamber. Now art thou taken unawares, and I shall bind thee in thy bed, of that be thou well assured.' Thus laughingly the lady uttered forth her jestings. 'And,' quoth Sir Gawain, ' Good morrow, gay lady; it will be well pleasing to me to be at thy ser vice, and I yield myself thereto, and desire thy favour as must needs be.' Thus did he dally with her with full glad laughter. 'But wouldst thou, lovely lady, be so good as grant me leave to rise and thus to set free thy captive? for I would fain rise from this bed and put on my robes, so should I talk with thee with greater comfort.' 'Nay, for
Page 135
---
sooth, good sir,' said that sweet one. 'Thou shalt not rise from thy bed. I will give thee better counsel. I will cover thee up in thy bed and hold con verse with my knight, whom I have taken prisoner, for I wis that thou art Sir Gawain, whom all the world doth worship wheresoever thou dost ride forth. Thy worth and thy courtesy are praised alike by lords and ladies and by all living. And now thou art here with me alone. My lord and his people are gone far away, and the other men are in bed asleep, and also my maids. The door is fast closed and secured by a strong bolt. So, since I have in this castle the man whom all love, no time will I be losing while it doth last,
In address.
Of me have thy will,
For thou shalt me possess.
Thy servant I am still,
As is fitting, I confess.'

Page 136
---
V
'IN good faith,' quoth Gawain, 'I think it would be gain for me were I not he of whom thou speakest, for to attain such worship as thou dost offer me herewith I wot well I am un worthy. By God, I should be glad, if it seemed good unto thee, to do thee service or pleasaunce in word or deed, and a pure joy it would be unto me.' 'By my faith, Sir Gawain,' quoth the gay lady, 'if I held lightly the price and the prowess that pleas eth all others, it would be but a little dainty. There are ladies enow that would be liefer to hold thee happily in their power as I have thee, and in dear dalliance to hear thee speak dainty words and thereby gain com fort and rid them of care, than all the guerdon or gold that they possess. And as I love the Lord who holdeth
Page 137
---
up heaven aloft, I have in my hands that which all desire
through grace.'
She made him so great cheer,
That was so fair of face,
With speeches pure, that peer
Answeréd in each case.

VI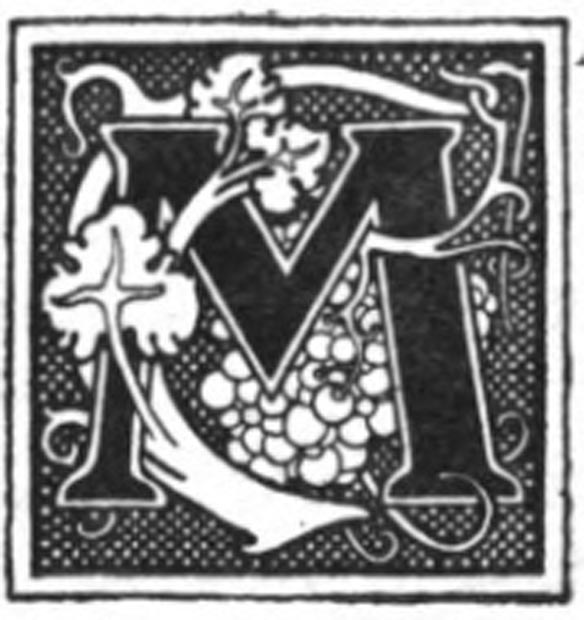 'MADAM,' quoth the merry man, 'may Mary bless thee! I have found thee, in good faith, noble and frank. Full many others did me courtesy, and the dainty that they dealt me was foolish ness; but thy worship is that of one who knoweth nothing but good.' 'By Mary,' quoth the lady, 'I think other wise, for were I worth all the wealth of women on earth, and all the wealth of the world were in my hand, were I
Page 138
---
to bargain and choose and take captive a lord, then no fellow on earth before thee would I choose, because of thy courtesy and beauty and good manners, and thy blitheness of mien, and because of what I have heard from thee and hold for the truth.' 'Well I wot,' quoth Gawain, ' thou hast chosen a better man than I am, yet am I proud of the price thou puttest upon me, and soberly as thy servant I hold thee as my sovereign, and thy knight I become, and may Christ requite thee.' Thus did they talk of many things till the midnoon was past. The lady seemed to be pleased therewith, and to love him. And Sir Gawain bore himself bravely. Yet the knight had in mind that though she were the fairest of ladies, there must be no love-making for him because of the loss that he was seeking
eftsoon.
The blow he must abide,
And it must needs be done;
The lady turned aside;
He grants her leave full soon.
Page 139
---
VII
THEN she gave him good-day with a laughing glance, and standing there she caused him to won der at the strength of her words. 'Now, he that speedeth all speech, yield us this sport, but I have it in my mind that thou art not Sir Gawain.' 'Wherefore ?' quoth Sir Gawain, and afresh he asked her ques tions, fearing lest he had failed in his bearing and manners. But the lady blessed him, and gave her reason. 'Since Gawain is fitly held to be so gallant and courteous, he could not so long have lingered lightly with a lady without craving a kiss for courtesy's sake and some little trifle at the end of his dalliance.' Then said Gawain, 'Let
Page 140
---
it be as thou dost wish. I will kiss if thou dost command, as befits a knight who fears to displease thee, so let there be an end to thy pleading.' With that she came near to him and caught him in her arms and bent down gracefully and kissed the knight, and they com mended each other to Christ. Then she went out at the door without noise. Sir Gawain rose up readily, and making haste, called to his chamberlain and chose his dresses; and as soon as he was dressed went forth gaily to Mass, and then to meat, which had been courteously kept for him, and made merry till the moon rose,
all day.
No man did e'er make jest
With ladies so worthy and gay;
Much pleasure they confessed
They had of him that day.
Page 141
---

VIII
AND ever the lord of the land was busy with his sporting, hunting in holt and heath after the barren hinds, and by the setting of the sun there had been such a slaughter of does and of deer as was a wonder to behold. Then at last quickly flocked the folk together and fiercely made a quarry of the dead deer. And the noblest set to work with men enough; and, as is the custom, they cut up the quarry, and some of them burst open the breast, cutting the jointures with a sharp knife. Then they rent the limbs and the hide and took out the bowels, having lustily lanced it, dividing it deftly, and with their sharp knives sheared off the shoulders, haling them out by a little hole that the whole sides might be preserved. Then they broke the breast into two halves, and right
Page 142
---
quickly cut up the nombles,* and it was riven right up to the forks, and they readily lanced all the rib membranes and freed them from the backbone, all evenly to the haunch, and heaved up the part that is called the nombles
by kind.
By the fork of the thighs,
The laps they lance behind;
To hew it in two devise,
By the backbone to unbind.

IX
THEN they hacked off both head and neck, and severed deftly the sides from the chine, and flung the fee of the crows into a grove hard by. Then they pierced both sides through at the ribs, and hung them by the houghs of the
* Nombles.—Parts of inwards of the deer.
Page 143
---
haunches. And each man took his share that fell to him, and they fed the hounds on the skins, and with the liver and the lights and the leathern paunches, with bread dipped in blood. Boldly they blew the horns, and the hounds bayed. Then having packed up the flesh they went homewards, blowing full strongly many bugle notes, so that by the time daylight had faded, home came the doughty men, to the comely castle where Sir Gawain was biding,
full still.
Brightly the fire doth burn.
He greeteth with a will
The lord at his return;
With joy each one did thrill.

Page 144
---
X
THEN the lord of the castle commanded the household to be marshalled, and the ladies to descend with their maidens, and the men in the hall to bring the spoils of the chase and spread them out before them. And Gawain, who was goodly in games, he called and showed him the tails of full fierce beasts, and the shining grease shorn from the ribs. 'How pay you this sporting?' quoth he; ' have I won the prize? Have I deserved hearty thanks because of my craft in hunting?' 'Yea, I trow,' cried Sir Gawain; 'here is the fairest venison I have seen for seven winters.' 'All this I give to thee, Sir Gawain,' quoth that other; 'according to our
Page 145
---
covenant it is thine own.' 'That is soothly said,' quoth Gawain, 'and that which I have won within this castle, I trow it is thine with my good will.' Then he clasps the fair neck of the lord in his arms and kisses him in comely fashion, 'Take thou thus what I have achieved; there is nothing else, or I would vouchsafe it to thee though it had been much greater.' 'Good it is,' said the good man, 'I say thee gram mercy therefore. Now tell me boldly how thou didst win this wealth—was it by thine own wit?' 'Nay,' quoth Gawain, 'that was not in our covenant; try me no further. I have given thee that which betides thee. Thou shouldst ask no more,
I trow.'
They laugh and blithely talk
With words soft and low,
Soon to supper they walk,
To dainties new enow.

Page 146
---
XI
AFTER supper they sat in the chimney corner, and oft were borne to them the costliest of wines, and often in their talking they agreed that on the morrow there should be the same covenant between them as before—that whatever new chances betided them they would exchange them when they met in the evening. And they agreed to the cove nant in the presence of all the house hold. And they drank together, pledging troth with many a good jest, and at the last took leave of each other lov ingly. Each knight betook himself to his couch. Before the cackling cock had crowed three times, the lord leapt from his bed, and all the people who would go a-hunting. They went to Mass and then to meat, after which be
Page 147
---
fore day had dawned, they hied them to the woodlands
to the chase.
With high hunt and horns
They pass the plain apace,
Uncoupled among the thorns
The hounds did race.

XII
SOON they called a quest by the side of a marsh. The hun ters who first found it cheered on the hounds with words, and there was a great hallooing, and the hounds, hearing it, hastened thither quickly, forty of them at once, and fell fast to the scent. Then arose such a roaring of the gathered hounds that the rocks were ringing thereabouts. The hunters harried them with their horns, and all of the hounds swayed together between a pool in the wood, and a cliff,
Page 148
---
a rugged place it was where the rugged rock had fallen. The hounds went before and the hunters followed after. They surrounded the cliff, and with the bloodhounds marked the beast that was within. Then the hunters beat the bushes and sought to make the prey leap forth. Suddenly and fiercely he rushed athwart the huntsmen—one of the fiercest of swine. A long time had he dwelt apart from the herd, and he was very old and tough and baleful, and one of the greatest of boars, and when ever he grunted many were fearful, for at the very first thrust he hurled three men to the earth and caused many to fall back without further hurt. And they hallooed full high, with 'Hay ! hay !' and hotly blew their horns; and merry were both hounds and hunters who hastened after the boar with boast ful noises.
And why?
Full oft he bides the bay,
The hounds he doth defy,
He maims the dogs, and they
Full piteously howl and cry.
Page 149
---
XIII
THEN the shooters shot their arrows at him, and often they struck him, but their points failed to pierce his hide, and the barbs would not bite his forehead. The shaven arrow-shafts shivered in pieces wheresoever they struck him. But whenever the blows at all pierced his flesh, then, maddened, he burst forth on the hunters and hurt them hotly as he hied. And many grew timid and drew back somewhat. But the lord riding on a light horse often pierced him, as boldly on the bent-field he blew his bugle, and called them back as he rode through the dense thickets, pursuing the boar till the sun shifted westwards. Thus on this day did they drive the
Page 150
---
boar, while our lovely knight lay on his bed in rich apparel,
all bright.
The lady quickly hies
To greet the gentle knight,
Full early doth she rise
To change him if she might.
SHE came towards the curtain and gazed at the knight, and Sir Gawain welcomed her courteously at first, and the lady talked with him earnestly. Then she sat at his side and laughingly with loving glances she delivered her soul, 'Sir, if thou art Sir Gawain, it is, I think, passing strange that a knight who is so well disposed to gallantry should not be well versed in the customs of
Page 151
---
good company, for even if thou dost know them, thou dost cast them forth from thy mind and hast right soon forgotten what I taught thee by my talking yesterday.' 'What may that be?' quoth the knight. 'I wot not what thou meanest. If soothly thou speakest, then truly the fault is mine own.' Then said the lady, 'Why, truly. I taught thee of kissing, and that when the face of a lady is known, thou shouldst quickly claim thy meed, and that this is becoming in a knight who uses courtesy.' Then quoth the doughty man, 'Have done, dear lady, for that I durst not do, lest I should be denied, for by thy refusal should I find out my mistake.' 'By my faith,' quoth that fair one, ' thou shalt not be denied, for thou art strong enough to constrain one if thou likest, if any were so villan ous as to refuse thee.' 'Yea, surely,' quoth Gawain, 'good is thy speech, but to threaten a lady is deemed un gallant in the land where I live, as also are all gifts given without good will. I am at your service to kiss when thou
Page 152
---
likest. Thou mayest take it or leave it when it pleaseth thee,
in space
The lady bendeth low,
And comely kisses his face,
Much love-talk doth flow
Of love's joy and grace.

XV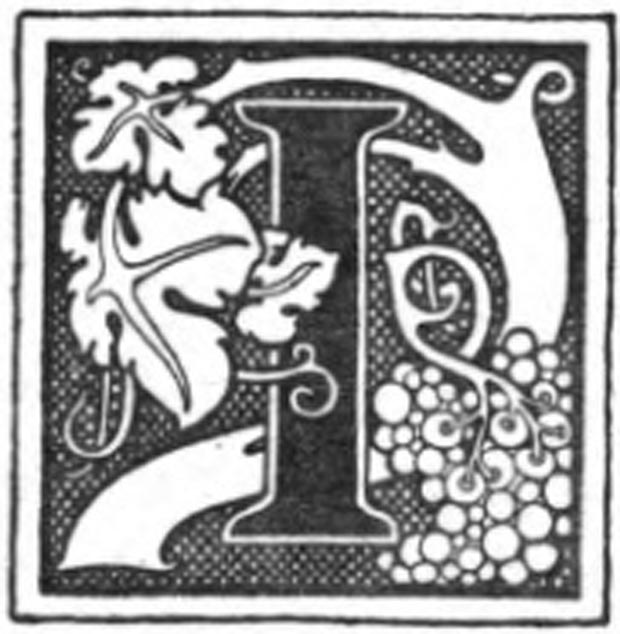 'I WOULD be knowing from thee,' said that dear lady, 'an you were not wroth thereat, how it cometh to pass that thou who art so young and active, so courteous and so knightly as thou art known to be, and so given to chivalry, which is the most praise worthy of all things, and so well versed in the loyal sport of love and in the science of arms, art yet so slow in love making. For of all the achievements
Page 153
---
of true knights, this of lovemaking is the chiefest, and for their leal loves their lives they adventure, and endure doleful dintings, and have avenged them by their valour and delivered them from care, and have brought bliss into many a bower, and many a fine favour have bestowed; and yet thou, who art the comeliest knight of the age, and thy praise is spread abroad everywhere, hast had me sitting by thy side several times, and hast not spoken a single gentle word such as lovers do speak and such as belongeth to love, neither little nor great; and thou who art courteous and quaint in thy promisings oughtest eagerly to teach a young thing some tokens of true love's craft. Why art thou backward who canst boast of praises, unless it is that thou deemest me too dull to hearken to thy dalliance?
For shame
Alone I come here and sit
To learn of thee some game;
O teach me of thy wit
While my lord is from home.'
Page 154
---
XVI
'IN good faith,' quoth Sir Gawain, 'God give you good, great is this good glee of thine, and easeful is it to me that so worthy a lady as thou art shouldst come hither to me and trouble thyself about so poor a man, and play in any such fashion; but it would be, as I think, a manifold folly for me to take the trouble to expound true love, and tales of arms, to one who, as I wot well, hath more sleight in that art than a hundred men such as I am, or ever shall be, as long as I live upon earth. As far as I am able I would work thy will, as I am beholden to do, and I would evermore be thy servant as save me the good Lord.' Thus did she tempt him often to wrong-doing according to her evil thought, but so well did he defend himself that of no fault seemed
Page 155
---
he guilty, nor was there evil wrought by either of them,
but bliss.
They laughed and played that day;
At last she gave him kiss,
And then she went her way,
And took her leave, I wis.

XVII
THEN arose the knight, and betook him to Mass, after which breakfast was joy fully served, and Sir Gawain played with the lady all that day. But over the country the lord was riding following the mis chievous boar by steep hillsides, and the beast bit the backs of his hounds in two. There he bode at bay till the bowmen broke in upon him and caused
Page 156
---
him to utter a cry as the arrows fell fleet upon him when the folk gathered about him. But yet he made the stoutest-hearted to start, until at the last he was so weary that he could not run any longer, but as quickly as he could he gained a hole in a hillock near a rock at the side of a brook. He set himself with his back to the hillock and began to scratch, and full loathsome was his foaming at the mouth, and about his white tusks, and all the men who stood by him were a-weary, but at some distance were they, for near him none durst
aspire.
He had hurt so many before
That no man did desire
To be torn by his tusks any more,
For his brain was fiercely on fire.
Page 157

---
XVIII
THEN came the lord of that rout himself and reined up his steed, and saw the boar at bay beside his men. He alighted in grace ful fashion, and left his courser in charge, brandished forth a glittering sword and strode along with huge strides, crossed by the fording where the fierce beast was biding, who was ware of the weapon in his hand; then he heaved highly his bristles and so hotly he breathed that many of his men went and stood before their lord, lest a worse fate should be fall him. The boar made so great a rush for him that both he and the lord fell in a heap, in a place where the water rushed rapidly; but the boar had the
Page 158
---
worst of it, for the man marked him well as they met, and set his sword in the pit of the beast's stomach, even up to the hilt, so as to rive his heart; and the boar, snarling, gave up the struggle as he fell down in the water
on his knees.
A hundred hounds and more
Fiercely did him seize;
Men brought him to the shore,
And death gave him release.

XIX
THEN furious was the blast blown upon many a horn, and high hallooing on the part of the men, and the hounds bayed the beast as the masters of that dangerous chase did urge them on. Then
Page 159
---
one who was wise in woodcraft began to unlace this lovely boar. First he hewed off his head and set it on high, then he roughly rent him by the back and tore out his entrails, and burnt them on hot coals, and rewarded his hounds with bread blended therewith; then he cut out the brawn in bright broad shields, and had out the hastlets, the two halves of which, all whole, he hung upon a strong pole. Then they made for home at a swinging pace, with the boar as their trophy, and the boar's head was borne before the knight who had fared into the ford so valiant
and strong.
He saw Sir Gawain in hall,
And the time it seemed full long;
He came when he did call
To take what to him did belong.

Page 160
---
XX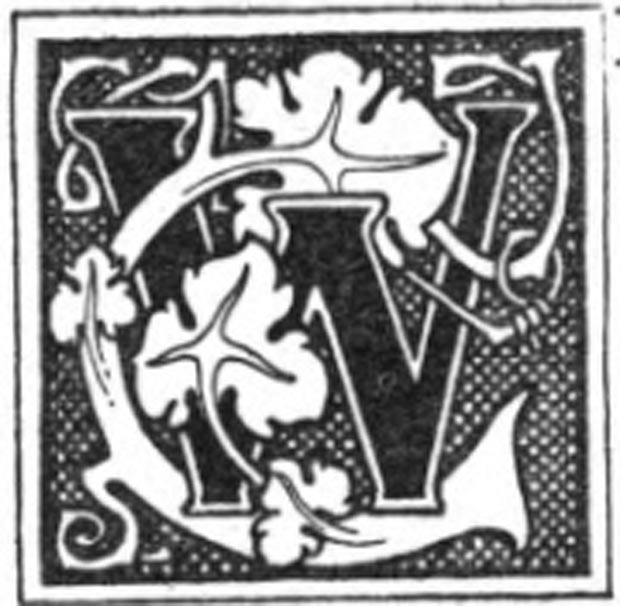 WHEN the lord saw Sir Gawain he greeted him with loud mirth and spake words of solace to him. Then he sent for the ladies and gathered the household; he showed to them the shields of the boar, and told them of his length and breadth and height, and of the boar's fierceness, and of the fight in the wood with the wild boar. Then Sir Gawain full comely commended his deeds, and praised him at great price, and said that never before had he seen such a brawn of a beast nor such sides of a boar. Then the gentle man handled the huge head and praised it. 'Now, Gawain,' quoth this good man, 'this game is thine own, as by our fast and fair covenant it was agreed.' 'True it is,' said that other, 'all that I have gained I will give it to thee by my troth.'
Page 161
---
Then he caught the lord about the neck and gently kissed him, and eftsoons he kissed him again. 'Now are we quits,' quoth the lord, 'this eventide of all the covenants we made since I came hither.'
'I trow
By St. Giles,' said the knight,
'Thou art the luckiest I know,
Great in gains thou art this night,
And a rich man thou dost grow.'

XXI
THEN they set up the tables, and cast cloths upon them, and the serving-men fixed flaming torches on the walls and set out the feast, and there was much mirth and glee in that hall, and many
Page 162
---
a stalwart man sang merry songs in many a wise during supper and after wards, such as new carols of Christmas, with all sorts of good-mannered jesting that one may think of. And ever our lovely knight sat by the lady, and in seemly wise she bore herself towards him, and gentle was her bearing, that she might please so stalwart a man, so that he greatly marvelled thereat, and was wroth with himself. Yet would he not, because of his high lineage, make any return thereto, but dealt with her with care, howsoever things went.
At last,
When they had played in hall
As long as their strength did last,
To chamber he gave them call,
And to the fireplace they passed.

Page 163
---
XXII
AND there they drank each other's health and passed away the time, and the lord proffered to make the same covenant together for New Year's Eve. But the knight craved leave to depart on the morrow. For the time was drawing near when he should go. But the lord hindered him from going, and con strained him to bide a little longer, and said, 'As I am a true man, I give my troth that thou shalt arrive at the Green Chapel on New Year's morn long before prime, that thou mayest per form thine oath. Therefore rest thou in thy bed and take thine ease while I shall hunt in the woods and keep the covenant between us and exchange our gains on my return hither. For I have proved thee twice and found thee faithful, now for the third time let us think on the morrow and make
Page 164
---
merry while we may, and be mindful of joy, for loss cometh when it will.' Sir Gawain readily consented thereto, and lingered a little longer, and they drank together and went to their rest
with light.
Sir Gawain lies and sleeps
Full still and soft all night,
The lord, that woodcraft keeps,
Full early he was dight.

XXIII
AFTER the Mass the lord and his men ate a hasty meal. Merry was the morn. He asked for his horse, and all his company whose duty it was to follow him were ready on their chargers before
Page 165
---
the hall gates. Wondrous fair was the world, for the hoar frost was on the ground. Ruddy and red the sun rose among the mists, and full clear cast aside the clouds of the welkin. The hunters dispersed themselves by the side of a wood, and the rocks and the trees rang with the noise of the horns. Some of the hunters fell in with the scent where the fox was biding, and oft they tracked and tracked across in wily fashion. One of the hounds took up the cry, and the hunters called him, and the others fell thereto panting hard and close together. They ran forth in a rabble right on his track. The fox ran on in front, and they found him at length and followed hard after him, and savagely they scolded him with an angry noise. He tricked them, and made quick turns in many a rough woodland, and dodged in and out, and sometimes would pause to listen by many a hedgerow. At length he leapt over a quickset hedge by the side of a little ditch, and then stole out stealthily by a rugged path, and tried to escape
Page 166
---
the hounds. Then, ere he knew it, he came suddenly upon one of the stations, where three hounds fiercely set upon him at once.
All grey
He quickly turned again,
And strongly sprang astray
With all the woe and pain
To the wood he turned away.

XXIV
THEN truly it was fine sport to listen to the hounds when, all crowded together, they came upon him, and such curses were flung at him as though the clustering cliffs had clattered down in heaps. And
Page 167
---
as the huntsmen met him, they hallooed together with loud and snarling words. And they threatened him, and called him a thief, and ever the hounds were at his tail that he might not tarry a moment, and often as he ran on they rushed at him, and often they rolled over and over. So wily was Reynard. And oft he led them astray in this fashion over and under and amidst the mountains, while the gentle knight at home was sleeping within the comely curtains on that cold morning. But the lady could not sleep for love thinking, lest the purpose in her heart so firmly fixed should suffer harm. But she rose up quickly and ran to his chamber, dressed in a merry mantle furred and lined with the purest of skins, with no hues of gold her head adorning, but with precious stones twined about her hair in clusters of twenty. And her face and her throat were all naked, and eke her breast before and behind. She came within the chamber, and closed it after her, flung wide open the window, and called to the knight, and
Page 168
---
thus greeted him with raillery and rich words, and

with cheer.
'Ah, man, how canst thou sleep?
The morning is so clear.'
He was in drowsing deep,
And yet her words did hear.

XXV
BUT the knight was sunk in fitful and dreamy slumbers, as if in the grip of sad thinking how that on that very day destiny would dight him his Weird,* when he should meet the Green Knight at W his chapel and receive from him the blow without further words. But

* Wyrd or Weird was the Old English Goddess of Fate of Beowulf and other Old English poems.
Page 169
---
when that comely knight recovered his wits, he swung suddenly out of dreams and answered in haste. The lovely lady came towards him laughing sweetly, and bending over his fair face she kissed him. And he welcomed her worthily, with a pleasant smile. For he saw her so gloriously and gaily attired, so faultless in her features, and of such a fine complexion, that a strong and welling joy warmed his heart. And straight they smote forth mirth and smiles; yet all was pure bliss, and no more than they felt within them
was right.
The words they said were good,
And their joy was fair and light;
Great peril between them stood,
But Mary guarded her knight.

Page 170
---
XXVI
FOR verily the worthy Prince bore himself as a victor; for she proffered herself to him so earnestly that it behoved him either to take her love or to refuse it in un courteous fashion. He cared much for his courtesy, lest he should prove him self craven-hearted, and yet much more for the mischief that would follow were he to commit sin and betray the lord who was his host in that castle. ' God shield us,' said he, 'this shall not befall us,' and with spare love, laughing, he received all the words of choice that fell from her lips. And the lady said, 'Thou dost deserve great blame if thou lovest me not who am wounded in heart more than all else in the world; but perchance it is because thou hast a mistress that thou lovest better than thou lovest me, and holdest thy troth to her, and wouldst not lose her, as I
Page 171
---
trow. And now do thou tell me that truly, I pray thee; for the sake of all the true love in the world, hide it not from me
through guile.'
The knight said, 'By St. John,'
And softly he did smile,
'In faith I have not one,
Nor none will have the while.'

XXVII
'THAT word,' quoth she, 'is the worst of all. I am answered forsooth, and sore wounded am I. Kiss me now comely, and I will hie me hence. I can only mourn in the world as lovers do.' Then, sighing, she stooped down and said as she stood there, 'Now, dear
Page 172
---
one, at my passing do me this ease; give me some little token, if it be only thy glove, that I may think on thee and thus lessen my grief.' 'Now I wot,' said the knight, 'I would that I had here the dearest thing I possess in the world, for thou hast, forsooth, deserved wondrous oft and rightly greater reward than I could ever be stow; but to bestow upon you some love-token, that would avail but little. For it would be a stain upon your honour at this time that Gawain should give you a glove as a reward, for I am come hither on the most unheard-of errand upon earth, and have no men or baggage with things of value—for every man must bide his fate, whether of sorrow
or gall.'
'Nay, knight of high degree,'
Quoth the lady fair and tall,
'Though nought thou givest me,
I'd yield to thee my all.'

Page 173
---
XXVIII
SHE gave him a rich ring of red gold, with a glittering stone standing out therefrom, from which shone forth blushing beams as of the bright sun; and surely it was of very great price. But the knight refused it, and readily he said, 'I will take no gift from thee at this time. I have none to offer thee in return, and none will I take.' She pressed it upon him, but he would none of it, and swiftly swore his sooth that he would not take it; and very sorrow ful was she, and said, 'If thou refusest my ring because it seems to thee too rich a present, and thou wouldst not be so deeply beholden to me, I will give thee my girdle, for that is of less value.' She caught hold of a circlet of
Page 174
---
lace that girdled her sides and was fastened to her kirtle under the white mantle, and it was geared with green silk and shapen with gold and all em broidered with finger-work. She offered it to the knight, and blithely she be sought him to accept it, though of little worth it were. But he said that he would not take it in no wise, neither gold nor treasure as God sent him grace, that he might achieve the event that he had chosen in coming there. 'And therefore I pray thee, be not displeased, and cease from this business, for I can never consent to thy request, therefore
do not rue;
Dear debt to thee is mine
As thy courtesy's due,
And ever in fair and fine
I am thy servant true.'

Page 175
---
XXIX
'NOW dost thou refuse this silk girdle,' said the lady, 'for simple it is in itself and of little worth it seems. But whoso knew the virtues that are knit therein, he would appraise it at greater price, peradventure. For whatsoever man is girded with this green lace while he has it secretly fastened about his body, there is no man under heaven that could hew him asunder. He could not be slain by any sleight or trick in the world.' Then the knight set himself to thinking, and it came into his heart that such a girdle would be a jewel in the jeopardy to which he was pledged in going to the Green Chapel to receive
Page 176
---
the deadly blow; and if he should slip and be in danger of death it would be a noble sleight of defence. Then he endured her chiding, and let her speak, and she thrust the belt upon him quickly, and he took it from her as she gave it with good will and besought him for her sake never to reveal it, but to loyally hide it from her lord. The knight agreed thereto, and swore that no man should ever know it save they two, as she
did crave.
Great thanks he gave that day
With heart and mind so grave.
The third time, as I say,
She kissed that knight so brave.

Page 177
---
XXIX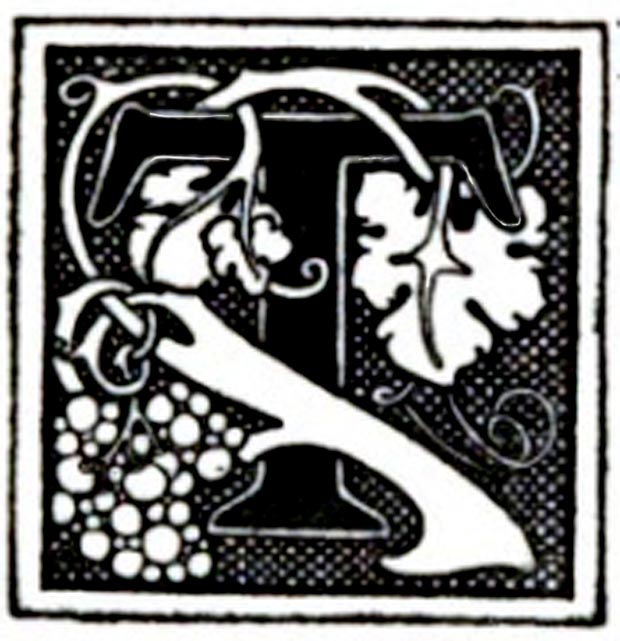 THEN she took her leave, for there was no more love-play to be gained from the knight. As soon as she had gone, Sir Gawain dressed him self right soon and arrayed himself in noble garments and hid away the love-lace the lady had given him, where he could easily find it at need. Then first he went to the chapel of the castle and found out the priest, and prayed for absolution and that he would show to him a better way to save his soul when he should go thence. Then he made a clean shrift, and confessed his misdeeds both great and small, and sought for mercy. And the priest absolved him and gave him such cleanness as though on the morrow doomsday should dawn. Then he made himself so merry among the noble ladies with comely carols and all kinds of joy
Page 178
---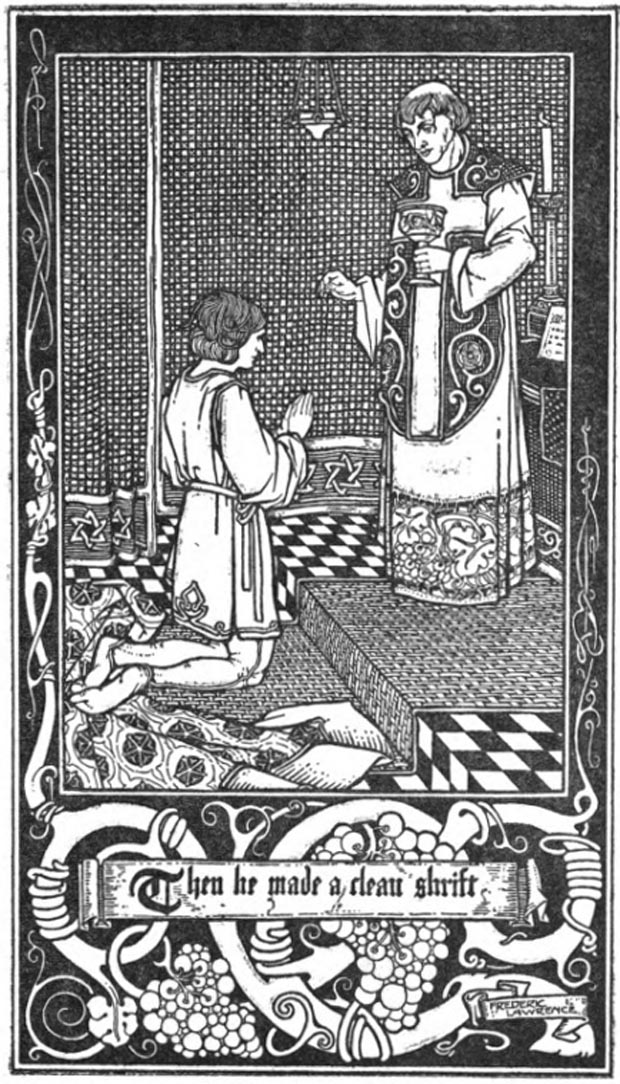 Page 179
---
BLANK - Page 180
---
as never before or since that day, until the dark night came
with bliss.
Each one had dainty more
Of him and said, I wis,
That so merry he ne'er was before,
Since thither he came, ere this.

XXXI
AND he lingered there, where love was his portion. And all the time the lord was on the land leading his men, and he had killed the fox that he had followed so long, as he leapt over a hedge to spy upon the shrewd fellow. For there, as he heard the hounds that were hard upon him, Reynard came running through a rough grove, and all the rabble racing at his heels. The lord was ware of the fox, and warily he waited

Page 181
---
for him, and brandished forth the bright sword, and made a cast at him, whereat he flinched and should have retreated, but a hound rushed at him e'en before he could escape, and right in front of the feet of the horse they all fell upon him and worried the wily fellow to death with a loud noise. The lord alighted quickly, and soon caught hold of him and tore him out of the mouths of the dogs, and held him high above his head, hallooing the while, and many a brave hound bayed at him there. The hun ters hied thither, blowing a recheat on their horns till they saw the knight, and by the time that his noble company were come up, all that bore bugles blew at the same time, and those who had no horns raised a great halloo ! It was the merriest meet ever heard of, and the greatest noise ever made for the soul of a fox.
With jest
The hounds they did reward,
Their heads they then caressed,
And then they took Reynard
And straightway him undressed.

Page 182
---
XXXII
AND forth with they made for home, blowing full stoutly on their loud horns, for night was draw ing near. And at length the lord alighted at his be loved homestead, and found the fire on the floor and the knight beside it. Sir Gawain the good made merry with them all, for among the ladies he had much joy for love. He wore a fine blue linen mantle, that reached down to the ground, and his surcoat suited him well, for it was soft furred, and a hood of that ilk hung on his shoulder, and both were blended with fur. The lord met this good man in the midst of the hall, and greeted him gaily, and the knight spake goodly words: 'I will be the first to fulfil our covenant that we plighted together when the drink was
Page 183
---
not lacking.' Then he embraced the lord and kissed him three times as gravely and carefully as he could. 'By Christ,' said the lord, 'thou hast had great joy in achieving such treasures, and thy bargain was a good one.' 'Yea then, no matter the bargain,' said that other, 'quickly is given the bargain I drove.' 'Marry,' quoth the lord, 'my prize is coming on after me, for all the day I have been hunting and nought have I gotten but this foul fox; and the devil take him, and indeed it is a poor return to make for such precious gifts as thou hast given me in three such kisses
so good.'
'Enough,' said Sir Gawain,
'I thank thee by the rood,'
And how the fox was slain
He told him as they stood.

Page 184
---
XXXIII
THEN with mirth and minstrelsy, and with meats at their will, they made as merry as any men could, and the ladies laughed merrily, and there were spoken many jesting words. And Gawain and the good man were both of them so glad that they were in danger of losing their heads or of becoming drunken. So great was the revelry in the hall until it was time to separate and retire to their beds. Then most humbly did the knight take leave of the lord, and in fair fashion he thanked him. 'May the High King bless thee for the won drous sojourn I have had here in thy castle at this high feast. I pray thee to grant me one of thy men if thou wilt to show me, as thou didst promise, the way to the Green Chapel, so God will suffer me to endure on New Year's Day the destiny appointed me.' 'In good
Page 185
---
faith,' said the lord, 'with a right good will—all that ever I promised thee I will hold to my reed.' Then he assigned him a servant to set him in the way and conduct him by the downs that he might suffer no hurt in going through the forests, and fare forth in gainly fashion,
and live.
The lord then thanked Gawain,
Such worship he would him give,
And of the ladies twain
The knight then took his leave.

XXXIV
WITH courteous kisses | he took leave of them all and gave them great thanks, and received their thanks in return. Then they entrusted him to Christ, and heaved deep sighs as he passed out from
Page 186
---
their midst, and each man that he met he gave him thanks for service and solace and the great pains they had taken, especially those who had done him personal service. And each man was sore troubled at parting with him with whom they had dwelt so worthily. Then with flaming torches they led him to his chamber, and blithely brought him to rest in his bed. I dare not say that he slept soundly, for of the morn he had much
of thought.
Let him lie there still,
He is near that which he sought,
An ye will awhile be still
I will tell you how he wrought.

Page 187
---
END OF THIRD CANTO
---
CANTO ONE
CANTO TWO
CANTO THREE
CANTO FOURTH
---